The Visa Agro card allows farmers to access a credit line for farming-related purchases.
To get this card, click here.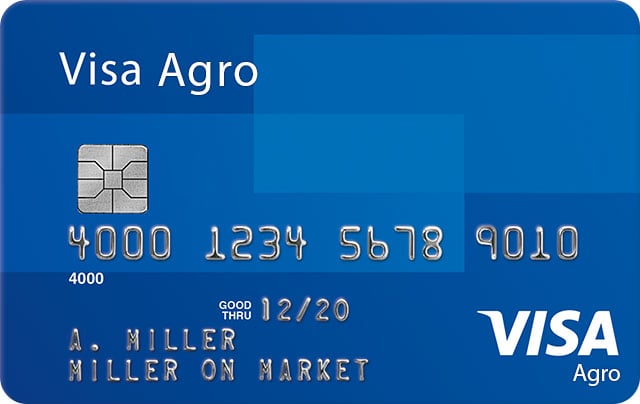 Visa Agro is a payment solution that facilitates and expedites purchases of products, equipment and resources farmers need to grow their business.
The Visa Agro card provides many advantages for your business:
Access to financing
Online payment cycles that are different from calendar cycles
Security when using and earmarking funds
Simpler accounting processes and increased control over expenses
Restricted use for specific vendors only
Exclusive benefits of your Visa Agro card

Services
Wherever you are, you can call the Visa Customer Service Center and we will provide assistance in your own language 24 hours a day, 365 days a year, to help you with anything you need, from sending flowers to locating the nearest ATM or sending you a replacement card or emergency cash advance.


If your Visa card is lost or stolen, the Visa Customer Service Center, available 24 hours a day, 7 days a week, 365 days a year, receives your report and takes the necessary steps to block the lost or stolen card and protect you from the unauthorized use of the account. The Visa Customer Service Center also arranges for a replacement card to be sent to you within 24 hours in the USA and Canada and one working day for any other country.


In case of an emergency, you can also request a cash advance on your account, subject to transaction approval by your bank. The Visa Customer Service Center will make all necessary arrangements to send you the cash wherever you are through the fastest method available.