Visa Purchasing is the most effective solution to simplify your procure-to-pay processes.
To get this card, click here.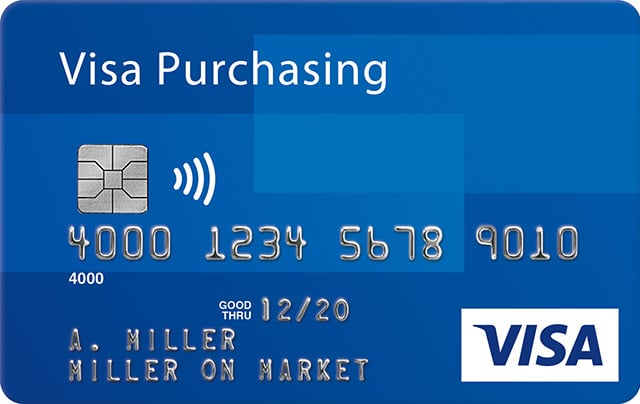 The Visa Purchasing card helps expedite the procurement process by eliminating the need to issue purchase orders, invoices and checks, generating cost savings.
With a Visa Purchasing card program, your company will be able to focus on business growth and increase productivity without investing considerable time and resources on procurement and payables processes. This product is much more than a payment card, since transaction data can be integrated to your internal management systems to help you make informed strategic decisions.
Additionally, with the Visa Purchasing card, your company will be able to:
Set transaction spending limits for different divisions or units, or for each employee who is issued a card
Improve management reporting by consolidating procurement data at multiple levels
Easily monitor compliance with spending policies
Gain access to more information to negotiate with your vendors
Exclusive benefits of your Visa Purchasing card


Protection
Visa Corporate Liability Release Insurance allows companies to request that the Financial Institution waive liability for certain unauthorized charges made by company-authorized cardholders.
Services
Wherever you are, you can call the Visa Customer Service Center and we will provide assistance in your own language 24 hours a day, 365 days a year, to help you with anything you need, from sending flowers to locating the nearest ATM or sending you a replacement card or emergency cash advance.

If your Visa card is lost or stolen, the Visa Customer Service Center, available 24 hours a day, 7 days a week, 365 days a year, receives your report and takes the necessary steps to block the lost or stolen card and protect you from the unauthorized use of the account. The Visa Customer Service Center also arranges for a replacement card to be sent to you within 24 hours in the USA and Canada and one working day for any other country.

In case of an emergency, you can also request a cash advance on your account, subject to transaction approval by your bank. The Visa Customer Service Center will make all necessary arrangements to send you the cash wherever you are through the fastest method available.